SAQ Fundamental Movement for Table Tennis Course
Learn How to Improve Sporting Performance with SAQ® Training
Online Course with SAQ® Master Trainer Harry White
Course Dates:
Session 1 - Sun 8th May (6pm-8pm)
Session 2 - Sun 22nd May (6pm-8pm)

In Partnership with Table Tennis England

What you will learn
To provide Table Tennis coaches with knowledge and practical skills to apply SAQ® FM Training to their table tennis sessions

How to introduce the SAQ® Continuum, the framework around which SAQ® FM Training is structured

Demonstrate the role of SAQ® FM Training in improving fundamental movements and athletic performance

To be able to demonstrate SAQ® activities

Learn important safety considerations

Understand how SAQ® FM Training can be applied as a stand-alone programme, a 'tool' to use within existing work or as an intervention to improve the gifted & talented or develop those of more modest potential
Course Description
This is an online interactive course delivering practical skills to table tennis coaches to learn about fundamental movement and how to apply these principles to their coaching.

SAQ® Training is a system of progressive exercise and instruction aimed at developing fundamental motor abilities, balance, coordination and ultimately complete control of body movement which in turn will improve sporting performance.

All coaches and parents want youngsters and children to move with competence and confidence and to develop the desire to participate in sport and physical activity.

All youngsters and children whatever their ability, age, size, shape or aspiration can improve their fundamental movement ability and build the foundations on which future sporting performance is based.

This course will enable coaches to give children, the opportunity to enjoy the variety, challenge and performance improvements that SAQ® Training can provide.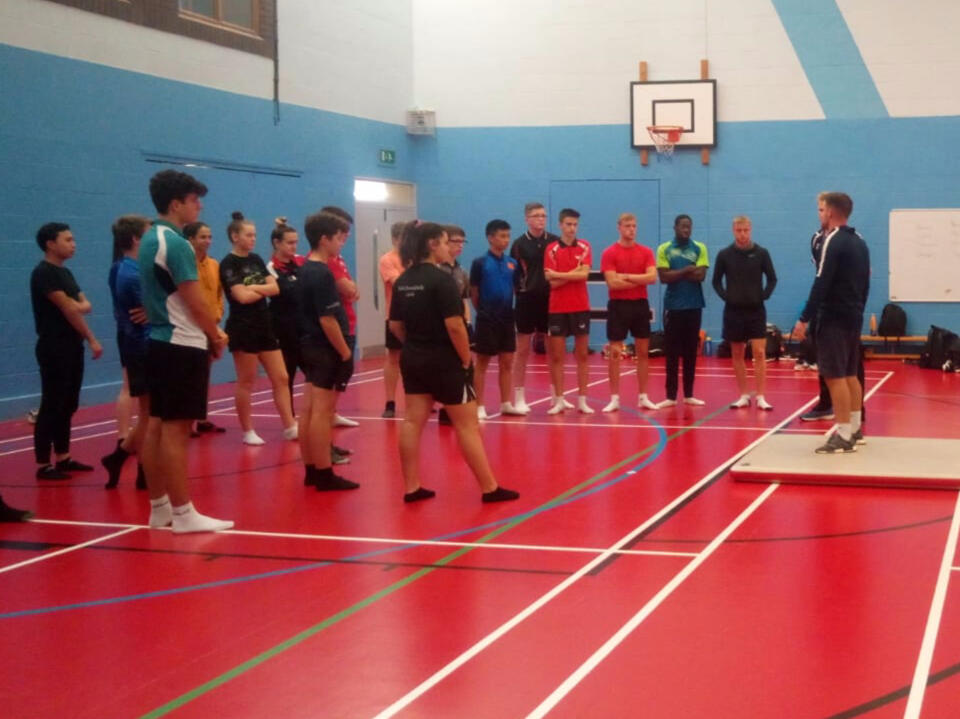 Course Programme
The Award will run across 2 online sessions (Each session approximately 2 hours in duration)

Each of the 6 phases of the SAQ® Continuum are introduced using video and power point, followed by practical videos and reviews.

If a delegate is unable to perform practically, they will still be able to complete the Award successfully.
Course Assessment
On-going assessment of practical competence

Demonstrating and teaching activities from the SAQ® Continuum via video

1 Multiple-Choice Questionnaire completed at home which includes Video analysis of movement
Award Status
UK Coaching Framework compliant

Dyspraxia Foundation endorsed

Special Olympics GB endorsed

RFU recommended

Sportscoach UK signposted.
You will get access to:
A comprehensive Resource Book and video summarising SAQ® FM Training for children

Insights on how to best use SAQ® FM Training and the SAQ® Continuum within Table Tennis sessions.

Best use insights for 1 to 1 situations and small group sessions.

Table Tennis specific videos
Who should attend?
Table Tennis Coaches of all levels

Coaches that want to be equipped with the skills guaranteed to develop and improve Functional Fundamental Movement and improve performance.
How much is the course?
The SAQ® FM Award online course is £80 + booking fee

50% Discount available for licensed coaches (enter promo code at checkout)
---
Recent Testimonials / Feedback
"The impact the SAQ had on the players within Grantham Table Tennis Academy was huge. Those players that really started to focus on developing their off the table movement started to see the benefits as the translated to their practise and matchplay. It also allows the players to have really good focus from the start of the session as the dynamic flexibility gives them specific areas to develop rather than being too generic. I would highly recommend this to be used in all clubs"

Natalie Green
Performance Coach - Grantham College TT Academy
(UKCC Level 4 Coach, Former England Junior No.1, Represented England at World, European and Commonwealth Championships)
"Fabulous Course, loved it! Learnt so much and excited to try it with the children I work with. Thank you!"

Angela Horley
FM Award at Harris Academy in Rugby
"Teachers have completely changed their approach to delivering fundamental motor skills to both primary and secondary aged pupils."

Leigh Marshall - PDM, Coopers Company and Coburn, Sports College Partnership, Upminster
"SAQ® FM Training plays an important role within our partnership, particularly in encouraging teachers to be innovative and to think about developing pupils' generic movement skills"

Geoff Sheldon - Chief Physical Education Inspector, County Durham
Contact Us
If you have any questions regarding booking please use form below:
"I feel like I've re-trained and have re-gained the same level of inspiration I once had"
"The practical element to the FM-Award was invaluable - this made it all relevant and put it into a teaching context."
Limited Places Available Book Now!